The boys have loved learning about 3D shapes this week. They have been describing shape properties, including the faces, edges and corners of 3D shapes. They took part in several shape activities, including sorting shapes, outdoor shape hunts and the 'feely bag' game where they describe shape properties for their friends to guess:
The Maths challenge is:
Please go on a shape hunt! See if you can find real life examples of:
Cubes
Spheres
Cuboids
Cylinders
Cones
Pyramids
Once you have found the different shapes, please count the corners and edges and identify the shapes of the faces. Have fun!
On Tuesday we had an action packed Superhero day. All of the boys' costumes were fantastic- well done for all your creativity! Various games were played throughout the day including 'What would you do?' scenario cards and a superhero memory game. Lots of discussion took place during 'Logic alley', where the boys decided which side of the debate they agreed with. Members of one side tried to persuade others on the opposing side to join them by giving their reasoning for questions such as, "Would you rather fly or be invisible?". Around snack time, the boys learnt about 'Superfoods' and how to stay healthy. Activities continued including, a variety of superhero arts and crafts which were offered across both classes. Comparisons were made between real and fictional superheroes during a patchwork activity, notably Policemen, Firemen and Doctors. To conclude the day, the boys travelled to Green Meadow. They learnt about road safety and crossed a zebra crossing mat. At Green Meadow the boys told a superhero story through actions, involving flying, jumping and twirling!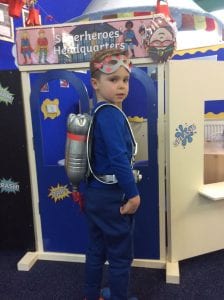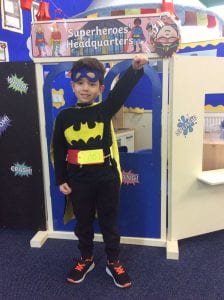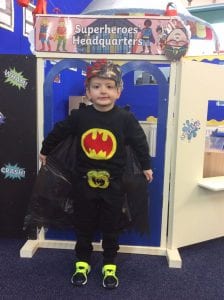 In Understanding the World, the boys made some exciting superhero potions that give you 'super powers'. They were fascinated that water and oil do not mix. They watched the potions bubble as they added an effervescent tablet:
The starboys after half term are as follows. Please bring in a picture of your favourite superhero (someone you know or fictional):
Monday: Hugo K
Tuesday: Hugo S
Wednesday: Jacob
Thursday: Joseph
Friday: Kailen
The weekly challenge is: Take off your jumper independently.
We hope you have an enjoyable and restful half term!
Mrs Starkey and Miss Barr